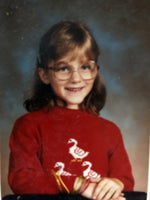 Nicole Magistro is a professional reader and amateur mother who lives in the mountains of Colorado. She owned a bookstore for 15 years, wrote thousands of book reviews, and memorized a few too many bedtime stories. Her favorite place in the world is the real Read Island, which inspired her picture book debut in 2021. As an author, Magistro is the winner of the Colorado Book Award, SCBWI Spark Honor, and a finalist Reading the West Book Award. 
As a kid, Nicole loved being read to far more than reading on her own. This was in part because she did NOT like to wear her glasses! When she moved to a new house in third grade, Nicole started to read more (because making friends was hard!), and she fell in love with books like Charlotte's Web, Little House on the Prairie and the Bunnicula series. She even enoyed poetry, especially by Shel Silverstein. 
As a teenager, her favorites included The Babysitter's Club and anything by the mystery writer Christopher Pike. She was totally freaked out by Stephen King's short stories, and eventually learned to enjoy classics like Crime and Punishment. 
Nicole attended Northwestern University, where she received bachelor's and master's degrees from the Medill School of Journalism. Her writing as appeared in Publisher's Weekly, The Chicago Tribune, Chicago Magazine, 5280 and other publications.
Please feel free to reach out to her anytime: nicole magistro at gmail dot com