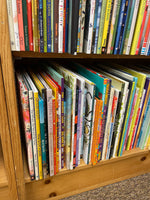 Book Lists * Reviews, Interviews and Articles
If you're looking for great books to read to your kids, be inspired, learn something new, or slip into another world -- me too! I am a voracious reader of children's books, literary fiction, memoirs, and essays. In order to keep track of what I've read by category, you can visit my Book Lists on Bookshop.org. 
Books that challenge traditional perspectives
For my debut picture book, Read Island, I collected all of the reviews, interviews and articles on a separate blog. Just click through to read what others said about this rhyming story for 3-7 year olds.