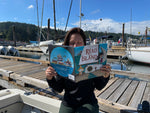 On Friday I signed books on the dock at Surge Narrows, just outside the door of the floating post office on Read Island, British Columbia. It seems everything has come full circle with this project and my heart is so full.
Read Island (the book) is the result of a year-long experiment in children's book publishing, sure. But it's also the creative expression of a very remote and wild place I hope to help protect. 
The real Read Island is our family's favorite place to visit every summer. I was married there; it's where I learned to drive a boat. I was marooned there on 9/11 and visited again last week on the 20th anniversary of that tragic day. Read Island has served as the setting for so many of my life's most important memories.
During the pandemic we couldn't travel to Canada, except in our imaginations. Through meditation, my son and I "visited" as often as we could, and during one of these mental journeys, the symbolism of the place name became the story. It was a lightbulb moment - books can take you anywhere!
The literary adventure, illustrated by the talented Alice Feagan, was well received by local students and community members who attended the presentation and book signing last week at Surge Narrows Elementary School. With one teacher and 16 students that spanned ages 5-14, we celebrated books and reading, along with new vocabulary and classic children's stories hidden within the illustrations. I signed books and visited with locals on the dock while the kids ate lunch and played capture the flag. By typical standards, it was a successful event. 
After lunch, my learning began. The students led our family on a tour of the new interpretive forest trail that meanders through Lot 302, an important 20-acre piece of land conserved last year through community fundraising. In 18 stations, the student-led research explains past evidence of 150-year-old logging activity, as well as an in-tact and diverse ecosystem of trees, ferns, berries, fungi, animals and rock formations. 
One student stood in bare feet pointing out no fewer than five species of ferns by name. Another told me why water tastes better after filtering through moss along a granite wall. Another joyfully described how we might measure the height of the most ancient tree in the forest through triangulation. And then we got to see a snake eating a frog. 
These children - and the adults who have supported prioritizing the natural existence of things - are the now the caretakers of the forest and the adjacent sea. In April, they collected garbage washed up on Big Cedar beach in time for Ocean Legacy Foundation to pick it up. In May, they learned about the logging protests at Fairy Creek. They identify the likely predators who left five mouse carcasses on the gravel road. They easily recall the last time they saw a whale. 
I am immensely grateful to experience the real Read Island alongside those who live there and protect it. And my hope for preserving its primary forests and sea life is renewed.