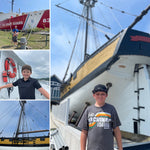 For me vacation goes something like this: sun, sand, wind, water, boat, book.
A land-locked westerner for most the year, I am inspired every time I visit the water. That, plus I definitely get more reading done.
This summer, our family vacation to the upper peninsula of Michigan checked all the boxes. I brought two novels (the out-of-print Canadian tome Monkey Beach and highly anticipated ARC of Cloud Cuckoo Land). When I finished them both, I found myself at The Island Bookstore on Mackinaw Island to restock. There I discovered two collections of poetry, fitting with the theme. One is older (Thoreau at Mackinac) and one brand new (Goldenrod).
Highlights among the books for kids included The Legend of Sleeping Bear and the classic Once on This Island. 
The selection at this well stocked indie bookstore urged me to wonder at the boat culture on display. In this summer vacationland, the locals are not shy to showcase all manner of vessels that float. During our visit we rode ferries, toured shipbuilding museums, wondered at historic shipwrecks and built our own floating rafts with driftwood. 
If there is a little reader in your life who might enjoy floating into a new book, you can check out a more complete list of books about boats for kids here.