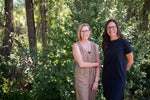 PRESS KIT FOR IMMEDIATE RELEASE
Edwards, CO –Calling all explorers! What if you could go anywhere in the world? Through the power of imagination, and the art of the written word, each of us can pick up a book and set sail to a magical destination. Fostering curiosity and literary appreciation is at the heart of Nicole Magistro's whimsical picture book "Read Island" (Read Island LLC, October 5, 2021).
Join a very brave girl and her animal friends as they traverse the seas in search of an island made of books. Propelled by their sense of wonder, the group makes exciting discoveries, meets unique new animal friends, and learns the most important secret of Read Island – "This world of stories, safe and true, is always here to welcome you."
Equal parts a celebration of reading and a valuable lesson in environmental stewardship, this tale is the perfect addition to a little explorer's growing bookshelf.