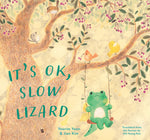 Women and other marginalized people make up less than 30% of the professional translators in the publishing industry. And since we're celebrating Women in Translation month, I thought it was important to shine a light on an even tinier part of the underrepresented group: women translators of picture books!
Check out these amazing women wordsmiths and their work on our Bookshop page including titles from Chi-Young Kim, Allison Charette, Claudia Bedrick, Kari Dickson, Elisabeth Lauffer, Lynn Sharon Schwartz, Ruth Ahmedzai Kemp, and more!
Share on twitter with #womenintranslation or learn more from @Read_WIT
Review the list of Mildred Batchelder Award winners for a comprehensive selection of the ALA's picks for books for children in translation.
The Pen America Women in Translation Month Reading Series has another free event today! Register now for a conversation moderated by Jenna Tang with 10 professional translators in Korean, Portuguese, Spanish, Russian and Chinese!
Busy or late to the party? Review these related articles: